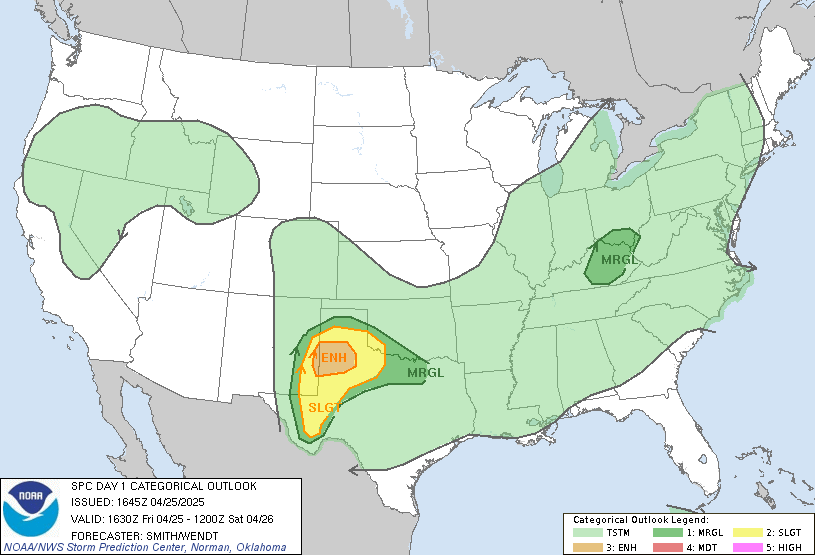 SPC AC 071626
Day 1 Convective Outlook
NWS Storm Prediction Center Norman OK
1126 AM CDT Fri Jun 07 2019
Valid 071630Z - 081200Z
...THERE IS AN ENHANCED RISK OF SEVERE THUNDERSTORMS THIS
AFTERNOON/EVENING ACROSS PARTS OF THE NORTHERN HIGH PLAINS...
...THERE IS A SLIGHT RISK OF SEVERE THUNDERSTORMS THIS AFTERNOON FOR
PARTS OF SOUTHERN AL AND WEST CENTRAL GA...
...SUMMARY...
Thunderstorms should produce severe hail and winds over a portion of
the northern Plains this afternoon into evening, while storms this
afternoon could produce a few damaging gusts across parts of Alabama
and Georgia.
...Northern High Plains this afternoon into tonight...
A pronounced mid-upper trough over the interior Pacific Northwest
and northern Rockies will move slowly eastward toward the northern
High Plains through early Saturday. An associated surface cold
front will likewise move slowly east-southeastward across WY,
eastern MT, and western ND, though progress of the front will be
slowed some today by cyclogenesis in the lee of the Wind River Range
in WY. Low-level moisture is modest across the northern High Plains
this morning, with some increase possible across the Dakotas through
weak advection and local evapotranspiration. However, the primary
driver of buoyancy this afternoon will be surface heating/deep
mixing near the lee cyclone/trough and along the cold front closer
to the Big Horn Mountains.
High-based thunderstorm development is expected by early-mid
afternoon across northwest and north central WY as ascent downstream
from an embedded speed max over the northern Great Basin interacts
with the deepening boundary layer and at least weak surface-based
buoyancy. Deep-layer vertical shear will favor supercells
initially, with the potential to produce large hail and damaging
winds. Eventual upscale growth into organized/bowing clusters is
probable as convection spreads northeastward this evening along the
front into the Dakotas through early tonight. Weakening buoyancy
and increasing convective inhibition after about 05z should result
in a diminishing threat of severe storms.
...Southeast states this afternoon/evening...
A midlevel low and weak surface reflection over AR as of late
morning will only drift eastward through tonight. Surface heating
within a very moist low-level air mass is contributing to moderate
buoyancy in a corridor from southeast LA into AL/GA, in advance of
ongoing/loosely organized storm clusters. Continued destabilization
in conjunction with modest (roughly 30 kt) low-midlevel
southwesterly flow will support a threat for expansion of the
ongoing convection as a few multicell clusters capable of producing
a few marginally severe outflow gusts with resultant wind damage.
Along the northeast edge of the richer moisture and more unstable
warm sector, there will be a zone of somewhat enhanced low-level
shear/hodograph curvature across SC this afternoon. Here, weak
supercell structures will be possible with an attendant threat for a
brief tornado. However, the extent of the threat will be limited by
rather modest low-level flow/SRH (effective SRH generally 150 m2/s2
or less) and deep-layer shear (effective bulk shear of 30 kt or
less), in an environment with poor midlevel lapse rates.
..Thompson/Squitieri.. 06/07/2019
CLICK TO GET WUUS01 PTSDY1 PRODUCT
NOTE: THE NEXT DAY 1 OUTLOOK IS SCHEDULED BY 2000Z
CURRENT UTC TIME: 1853Z (1:53PM), RELOAD THIS PAGE TO UPDATE THE TIME